Learn how to make brilliant homemade face masks, hair masks and body scrubs…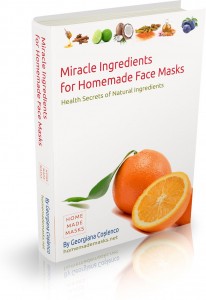 Click here to subscribe to your free PDF eBook today called "Miracle Ingredients For Homemade Face Masks".
You'll also be the first to discover exciting new ideas for natural masks with our regular email newsletter.
Already got the eBook?
If you enjoyed the FREE PDF eBook please take a moment to tweet, like, or share this article by using the buttons above or below this text. I'd really appreciate it!
Also, if you are feeling extra generous please leave some encouraging feedback in the comments section at the bottom of the page. I love getting feedback from visitors. It will encourage me to write more natural treatments that are cheap and effective!
If you enjoyed my Miracle Ingredients eBook you will love this…
I have a brand new eBook which takes all the miracle ingredients and mixes them into a cocktail of fantastic homemade face masks.
Of course, all your favourites from the website are included together with some exclusive masks that you won't get anywhere else!
With 32 different face masks to choose between your skin will be thanking you for months to come.
Click here to find out more about my new eBook and get a massive $20 discount!