I'm sure you'll agree with me when I say: skin pigmentation issues such as age spots, freckles, and sun damage can be a real issue. Especially as we get older.
Can you fade hyperpigmentation?
While those little imperfections, such as freckles, can be beautiful they can really upset some people. However, you don't have to hide them under layers of foundation, you can take steps to make them fade.
Even better, you don't have to use laser treatment you can do it using natural ingredients found in your larder.
What are dark skin spots?
Dark spots or discoloration of the skin is caused by excess melanin deposits. Melanin is what gives your skin it's natural tone and through sun exposure or other factors, the production is increased in some areas leaving a dark mark.
Hyperpigmentation is darker spots on the skin which can appear in small areas or cover the whole body. This is a usually cosmetic issue for most people rather than a serious health problem.
There are many reason hyperpigmentation can occur on your skin but the most common reason it occurs include sun exposure, post-injury inflammation, or hormone changes. These changes can alter the melanin production in your skin casusing darker areas to appear.
Other causes include skin infection, acne or some medical conditions.
You can help prevent it by wearing sunscreen, a hat, or avoiding the sun during the hottest part of the day (10am-4pm).
If you already suffer from hyperpigmentation due to sun exposure and you want to minimize how it looks then my homemade facemask made with orange peel, red lentils, & milk should help.
Natural produce that helps hyperpigmentation
Successful treatment of hyperpigmentation using homemade masks is mainly to be anecdotal, although there are some studies that show it works.
Items you may have in your larder that may be helpful include:
Apple cider vinegar
Aloe vera
Red onions
Green tea extract
Milk
Tomato paste
Red lentils
Citrus fruits, including oranges
Orange Peel Face Mask
Description
This DIY facemask containing orange peel, red lentils, and milk will help tackle hyperpigmentation. It uses orange peel which can take many hours to naturally dry out so isn't suitable for people in a rush.
Red lentils are a popular hyperpigmentation treatment as they are rich in antioxidants that are known to be good for the skin.
Lactic acid found in milk, buttermilk, and sour milk effectively lighten skin. Also, milk is often used in chemical peels. Interestingly it has been found lactic acid can be used to treat melasma.
The mildly acidic orange also has a bleaching effect on the skin. It is packed with vitamin C and rich in antioxidants.
This treatment should be repeated frequently until the results are visible.
Recipe
2 TBSP of red lentils
Peel from 1 orange
1 TBSP honey
a splash of milk
It is also much easier if you have a blender to combine and blend the ingredients.
Instructions
The night before:
Put 2 TBSP of red lentils in a little water and let them soak overnight.
Peel an orange and put the peel to one side to dry out overnight.
The following day:
Grind the dried orange peel in a blender.
Add the lentils, honey and a splash of milk to the blender.
The mixture has to form a paste, so do not add too much milk.
Blend the ingredients into a paste.
Wash and cleanse your face.
Gently apply the paste to your face.
Leave it on for 20 minutes.
Gently rinse the mask off with some warm water.
Apple cider vinegar mask
This is a really easy '1 ingredient' mask that uses the power of apple cider vinegar to fade away dark spots on the skin. It works because vinegar contains acetic acid that helps decrease melanin deposits. Research also shows it helps lighten the skin.
This remedy should be repeated twice a day until you get the results you want.
Recipe
1 TBSP Apple cider vinegar
1 TBSP Water
Instructions
Add the ingredients to a bowl.
Mix them thoroughly.
Wash and cleanse your face.
Gently apply the mask to your face using a cotton pad.
Leave it on for 5 minutes, or until it is absorbed into the skin
Gently rinse the mask off with some warm water.
Licorice root extract face mist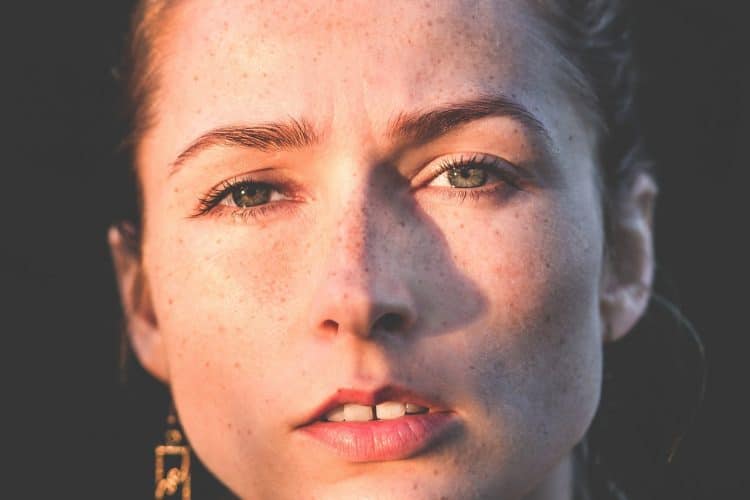 Licorice extract comes from the root of Glycyrrhia Glabra Linnera, grown mainly in India.
Licorice has been shown to inhibit melanin production, reduce free radicals, and lighten the skin. It also helps prevent further hyperpigmentation from sun exposure. 
So scientific and medical research shows it actually works, although more research is required.
Recipe
6 licorice roots
500ml or 2 cups of water
An empty spray bottle or container to store the extract
Instructions
Add the licorice roots to a pan.
Add the water.
Heat over medium heat for 10 minutes to extract the licorice.
Allow the mixture to cool down.
Strain the mixture into a bottle.
Cleanse your face.
Spray or apply it using a cotton pad directly on to your face and let it dry.
If you store the licorice spray in the fridge it should keep for 10 days or so. 
For best results apply twice per day. 
Other treatments for hyperpigmentation
There are some medical treatments available that can help reduce the appearance of dark spots. The treatment you get would depend on the underlying condition that caused hyperpigmentation initially. You should always consult a health professional who can recommend the best option before you decide to undertake any treatment:
Microdermabrasion
Intense pulsed light (IPL) treatment
Chemical peel
Laser resurfacing
Cryotherapy
Topical creams (corticosteroids, hydroquinone, retinoids, vitamin C, etc.)
Avoiding too much sun exposure and always wearing sunscreen or a moisturizer with a 30+ SPF, even on dull overcast days, will help prevent dark spots worsening.
Did you enjoy this article?
If you found this article useful please take a moment to tweet, like, or share this article by using the buttons at the bottom. I'd really appreciate it.
Also, if you are feeling extra generous please leave some encouraging feedback in the comments section at the bottom of the page. I love getting feedback from visitors. It will encourage me to write more natural treatments that are cheap and effective!
Thanks for taking the time to read my website and I hope to see you here again soon!