If you have suffered from acne then you will be desperate for a good homemade mask for acne. These are the natural treatments and remedies I used at home that helped when I suffered from my severe acne issues.
All my homemade remedies for acne are completely natural and gentle on your skin.
Unfortunately, acne outbreaks can lead to skin damage and scarring. This is why I have also included a mask I still use to treat my acne scars today.
What is acne?
Generally, acne is caused by excess sebum, which is an oily substance produced by the sebaceous glands. Our skin needs it in order to function, but too much of it can cause skin problems.
Luckily desperation and a lot of research led me to the right combinations of ingredients to help reduce sebum. 
In this article, I'll explain which natural ingredients are important when dealing with acne and why.
I also have created 3 fabulous face masks that have really helped me – including one which helps reduce the appearance of acne scars.
What causes acne scars?
Acne scars can form from a single spot or mild, moderate, or severe acne. Generally, it is more common for severe acne to cause more noticeable scarring but a single zit can produce a scar.
What types of acne scars are there?
Acne scars can be:
A dark mark on the skin – normally red or brown
Pits or depressions in the skin
An area of skin that undulates called a rolling scar
Scars normally fade with time but more severe scars can take years to disappear. Severe scarring can be permanent. Microdermabrasion, laser treatments, and chemical peels are often suggested as treatments to reduce the appearance of scarring.
Natural remedies that treat acne
One ingredient really stood out above all else when it came to acne treatment. Not only did it absorb sebum, but it was also hypoallergenic and an exfoliant.
Sounds amazing, so what is it?
The magic ingredient is oatmeal.
Oatmeal
Due to its texture oatmeal is a fantastic exfoliant. It will remove dry, dead cells and encourage your skin to produce new, fresh ones.
Regular exfoliation will help produce vibrant, younger-looking skin.
Oatmeal will also soothe your skin as it is hypoallergenic. It is also great at helping with allergies, sunburn and other skin damage.
It is also good for people with sensitive skin.
Oatmeal is also a humectant which means it helps your skin retain moisture. Though it doesn't actually moisturize in its own right when used in conjunction with skin-hydrating ingredients, oatmeal can help your skin take on a glowing, dewy appearance
Honey
Honey has a natural ability to hold onto water (the perfect humectant), hydrating without creating an oily feel.
It's also a natural source of alpha hydroxy acids, which encourage exfoliation. This makes it even easier for the skin to absorb the moisturizing elements.
Homemade face masks for acne
Oatmeal and honey DIY mask
Be gentle applying this mask. Do not be tempted to use it as a scrub as it will inflame your skin.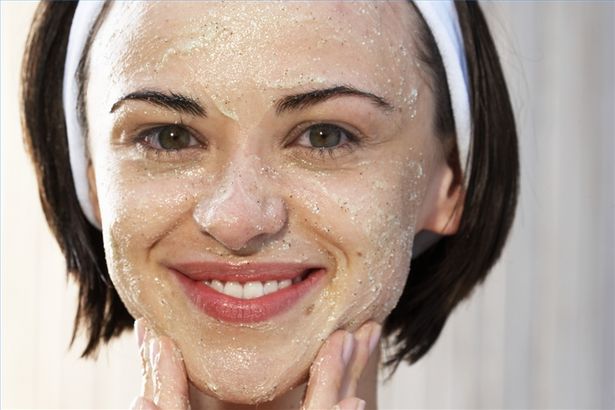 Ingredients required
You will need:
1 TBSP water (boiled water)
3 TBSP oats
1 TBSP honey
About the ingredients
Honey plays a double role in this mask:
it makes the application process easier, as it turns the mixture into a paste
It is nutritious, vitaminizing and a good tonic for all skin types.
The oatmeal absorbs sebum and retains moisture.
Honey and oats are excellent ingredients as they are suitable for all skin types.
Video showing how to make the face mask
Method
Put 1 tablespoon of hot water in a bowl then add 3 tablespoons of oats
Allow this mixture to cool down for a few minutes then add 1 tablespoon of honey, mixing it well with the other ingredients
Apply the mask gently avoiding the sensitive area of the eyes
Leave the mask to work for 10 to 20 minutes, but not longer than that
Gently rinse the mask off with warm water
Overnight cinnamon & honey mask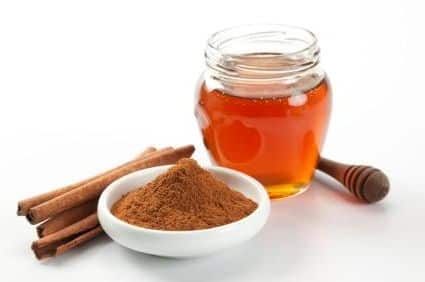 This is an old Indian recipe that has been passed from generation to generation.
This natural remedy is meant to be very effective and it is said that gets rid of spots overnight.
Ingredients required
You will need:
3 tablespoons honey
1 tablespoon cinnamon
About the ingredients
The key ingredients for this facial mask are organic honey and cinnamon.
Honey has good antibacterial properties and contributes to disinfect the skin. It also reduces and heals the red spots that acne brings.
Here are some interesting facts about cinnamon:
It lowers cholesterol
It helps reduce blood sugar levels
It aids weight loss
It can relieve headaches
It helps your body to absorb nutrients
It reduces anxiety
It stabilizes body temperature
Besides the medicinal properties, cinnamon offers numerous advantages in terms of body care too:
It's a remarkable natural scrub
Gets rid of wrinkles
It stimulates hair growth.
No wonder, it is used as an ingredient in some cosmetics as soaps, body lotions, moisturizers, perfumes and shower gels.
Method
Put the honey into a bowl and add the cinnamon powder to create a paste consistency.
Apply the mixture just on your spots in a thin layer and leave it for a few hours (at least 1-2 hours) before going to bed at night.
Wash it off with warm water and apply a moisturizer for oily type of skin.
I recommend you apply this mask every night until you see an improvement in your complexion.
Orange peel face mask for acne scars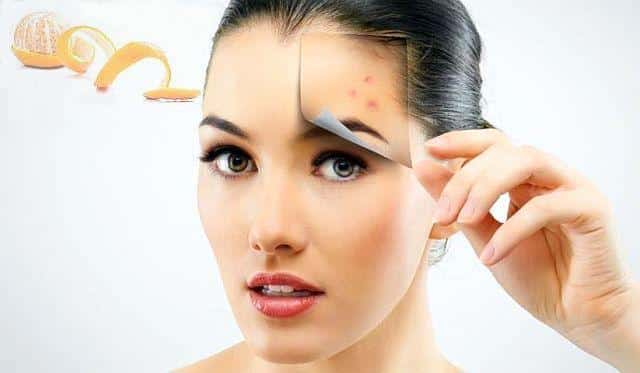 My acne left me with some acne scars that I am paranoid about. Luckily for me, they are not too noticeable but I am still aware that they are visible. This motivated me to research and find some masks that might help.
My search led me to this great face mask. It helps reduces sebum secretion and is also effective in treating spots and blackheads – as well as helping with acne scars. Best of all it contains only 1 ingredient (yep just one).
Ingredients required
You will need:
The peel from 1 orange
a little water
About the ingredients
You may be surprised to hear that the secret ingredient in this spot treatment is orange peel. However, orange peel is particularly effective in treating acne and any scarring.
According to "Cosmetic Dermatology: Principles and Practice" the high vitamin C content together with acidity makes oranges one of the best natural cures for acne.  And "Braun-Falco's Dermatology," say it is safe to use orange peel and orange juice as often as you want to treat your acne.
So all in all oranges are perfect for this issue!
How To Make The Face Mask
You need to plan ahead to make this mask as you have to dry out the orange peel in advance.
In the long run, it will pay off because the dried orange peel can be used on mask after mask.
I tend to keep my peel in a small Tupperware container so it stays fresh.
For best results, this should be applied to the affected areas several times a week.
Method
Peel an orange and put the peel to one side to dry out for at least 24 hours
Crush 1/2 a teaspoon of the peel from the orange. I usually use a blender but you could use a pestle and mortar.
Add water, mixing it as you go, until you create a paste-like mixture.
Apply it on your cleansed skin and leave it until it dries.
You should then gently rinse it off with warm water using a muslin cloth.
This treatment should be repeated 2 or 3 times a week.
This mask will help rejuvenate your skin.
Did you enjoy this article?
If you found this article useful please take a moment to tweet, like, or share this article by using the buttons at the bottom. I'd really appreciate it.
Also, if you are feeling extra generous please leave some encouraging feedback in the comments section at the bottom of the page. I love getting feedback from visitors. It will encourage me to write more natural treatments that are cheap and effective!
Thanks for taking the time to read my website and I hope to see you here again soon!