If your face has a naturally shiny or oily appearance then you have oily skin caused by excess sebum. 
Specifically, if you suffer from any of the following, you probably have oily skin:
Your face is shiny and looks greasy later in the day
Makeup doesn't stay on and appears to "slide" off your face
You suffer from blackheads, pimples, or other types of acne in the oiler parts of your face
Pores are visibly enlarged, especially on your nose, chin, and forehead
A small amount of natural oils on your skin is actually a good thing as it keeps it supple and moisturized. However, having too much oil can lead to some problems. Therefore, oily skin needs to be treated to prevent the pores in your face from being blocked resulting in spots, blackheads, pimples, and acne.
On the plus side, oily skin usually means your skin is highly moisturized so you will avoid getting premature wrinkles.
If your oily skin results in spots or pimples you should avoid squeezing them. If you do you can spread the inflammation and make the problem worse. You may even cause scarring to your face.
So what should you do about oily skin on your face that ensures you enjoy the benefits without the acne?
You should use skincare products and cosmetics that are non-comedogenic as they won't clog your pores. It is also a good idea to wash your hair regularly and keep it off your face to ensure excess oil doesn't end up on your face.
Also, if you treat your skin with a face mask, like the ones described below, it will help control the oil:
If your oily face has given you an outbreak of acne and you are looking for a natural remedy, I suggest looking at my homemade masks for acne, and acne scars. 
Homemade face masks for oily skin
Orange juice & honey face mask
This mask deep cleans your pores which reduces the risk of acne outbreaks on moderately oily skin. The honey also nourishes and smooths your complexion.
About the ingredients
Oranges are among the most popular and appreciated fruits in the world both for their taste and nutritional value. They are a rich source of vitamin C, ascorbic acid, folic acid, vitamin B6, flavonoids, pectin, and fiber.
Furthermore, oranges have a significant amount of minerals, such as salts of potassium, calcium, phosphorus, magnesium, copper. They don't have cholesterol or bad fats and they contain antioxidants effective in protecting our bodies from free radicals.
Fresh Orange juice can help cleanse, nourish, and restore the beauty of your skin. 
Specifically orange juice will:
Stimulate the skin's production of collagen
Strip off the oil from the face
Give a refreshed, glowing appearance to the skin
Ingredients required
You will need:
The juice from 1 orange
Honey
Steps
Squeeze all the juice from a fresh orange into a bowl
Add just enough honey to form a paste
Mix the ingredients into a smooth.
Apply this mixture to the face
Leave it on your face for 15 – 20 minutes
Rinse it off with warm water
Wash your face with cold water to close your cleaned pores
This mask should be applied once a week for the best results.
Clay, milk and orange juice mask
This mask is effective if you have very oily skin as the clay and orange juice work together to absorb the sebum and deep clean your pores. This mask will leave your skin feeling fresh and revitalized!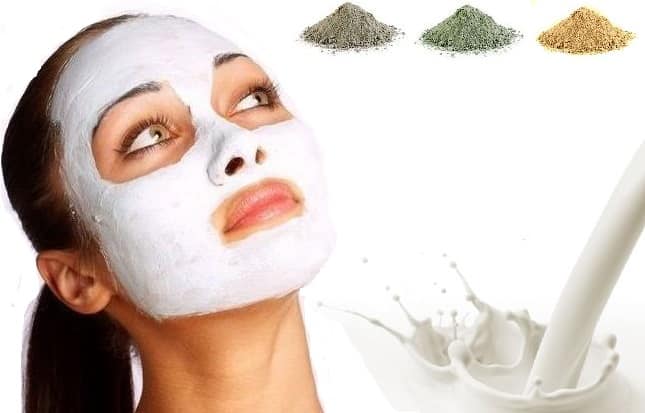 About this mask
Each ingredient in this mask has an essential role. They work together to result in an oil-busting face mask that works on the oiliest of complexions.
As I already mentioned, orange juice helps reduce sebum production by cleaning your pores. This reduces the risk of blackheads, spots or pimples.
The green clay, on the other hand, absorbs the oily sebum while the powdered milk helps soothe the harshness of the other ingredients
Even the water has an important role, as it helps 'wash' toxins from your pores.
Ingredients required
You will need:
Orange juice from 1 orange
2 TBSP green clay
1 TSP powdered milk
A few TBSP of water
Steps
Squeeze the juice from the orange into a bowl
Add the clay and powdered milk
Mix all these ingredients together into a smooth paste while adding a little water
Make sure the paste doesn't get too thin
Apply the mask onto your face
Leave it to work for 20 minutes
Rinse the mask off with warm water
Wash your face with cold water to close your clean pores
For best results, the mask should be applied once a week.
If you are interested in tightening your skin and reducing the signs of aging I'd recommend trying homemade masks that contain eggs. The simple egg is an overlooked ingredient that can give a youthful glow.
Did you enjoy this article?
If you found this article useful please take a moment to tweet, like, or share this article by using the buttons at the bottom. I'd really appreciate it.
Also, if you are feeling extra generous please leave some encouraging feedback in the comments section at the bottom of the page. I love getting feedback from visitors. It will encourage me to write more natural treatments that are cheap and effective!
Thanks for taking the time to read my website and I hope to see you here again soon!