Bentonite, or red, clay is one of the more popular beauty clays available for cosmetic use.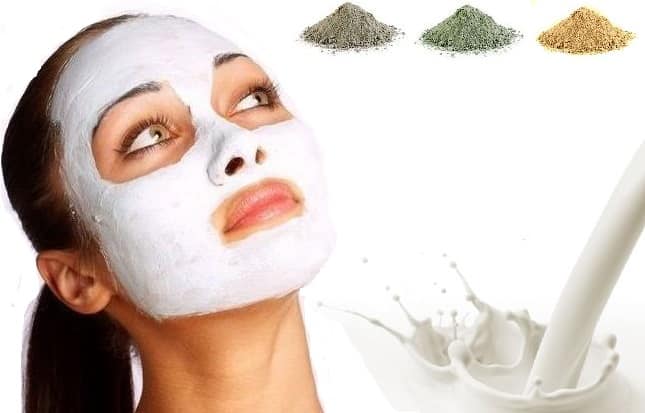 Bentonite and other clays have played an important role in cosmetics and skin care since ancient times. For thousands of years, people have been using this miraculous mud to keep skin young and beautiful. Indeed, many of the benefits of clays have been forgotten.
Today we can purchase bentonite and other types of clay from pharmacies and shops that sell natural cosmetics.
Clay can help remove impurities, release toxins and irritant substances that can cause problems for your skin.
It can also reduce inflammation, improve circulation, and absorb excess sebum.
Each type of clay has a different texture and color which come from the minerals it contains. The colors range from red, brown and green to yellow, white and even pink.
Here are 5 types of cosmetic clay along with 3 methods for easily including them in your beauty routine:
Bentonite clay (also known as red clay)
Contains over 70 minerals and has antibacterial properties that help reduce acne, improve circulation and heal skin inflammation. You can use this clay twice a week if you have acne.
White clay
One of the most versatile types of clay and it is mainly used in cosmetics due to its antibacterial and exfoliating properties. This type of clay can be used to remove dirt and clean your pores, but also regenerate skin cells. For a flawless complexion, white clay is the solution, as it is suitable for all skin types.
Green Clay
Absorbs toxins and purifies your skin. Its colors are given by its content of minerals such as: iron and magnesium.
Green clay is perfect for oily skin types, as it can help remove blackheads and excess of sebum. Green Clay has a tonic action on the skin, leaving it fresh and revitalized. You can use green clay based treatments weekly.
Fuller's Earth Clay
Another type of white clay and is used as a skin lightening agent. It contains silicon, iron and magnesium.
This type of clay is suitable for oily or acne skin complexions as well as for blemishes. It efficiently absorbs the excess oil from the skin so confidently include this ingredient in any face masks destined for oily skin.
Rhassoul Clay
Has a reddish-brown color and is a product highly preferred by spas. It is rich in minerals like potassium, calcium, magnesium, silicon, sodium and has astringent and absorption properties. Rhassoul clay is a natural mineral clay mined in the Atlas Mountains of Morocco since the eighth century. This particular type of clay has been used by Moroccan women for centuries to care for their skin and hair. Rhassoul Clay improves the elasticity and clarity of skin while moisturizing it at the same time.
There are products on the market such as facial masks, shampoo and hair conditioners that contain this type of clay.
I have 3 ways you can use clay in your weekly beauty regime:
Bentonite clay face mask
The idea behind this mask is to give a youthful glow and make your skin smoother.
This mask achieves this by using the clay as a mild scrub and the other ingredients to feed your skin:
Honey has amazing antibacterial properties that help soothe irritation and encourage the growth of new skin tissue.
Yogurt shares these antibacterial properties and also gently smooths the skin reducing fine lines.
To nourish your skin, use milk as part of your beauty routine.
Please note: if you have dry skin you should keep the mask on for less time to prevent over-drying your complexion.
For dry skin
Ingredients required
Steps
In a bowl add a small amount of water to the clay
Mix thoroughly until smooth
Apply to the face
Keep it on for only 5 minutes
Wash the mask off using warm water before it dries out
For other skin types (oily, combination, mature or sensitive)
Ingredients required
Either honey, yogurt or milk 
Bentonite clay
Steps
In a bowl add a small amount of either the honey, yogurt or milk to the clay
Mix thoroughly until smooth
Apply a thin layer to the face
Keep it on for 15-20 minutes
Wash the mask off using warm water before it dries out
For best results, this mask should be applied once a week.
Clay body wraps
Some companies claim that clay body wraps can help with weight loss.
While they can make your skin feel nice and smooth, the idea that a body wrap can whittle away inches from your waist or thighs is debatable.
I find them quite enjoyable and strongly believe they work. Just make sure you have lots of water to hand so you don't become dehydrated.
Ingredients required
Water
Salt
Olive oil
Bentonite clay
Plastic wrap
Steps
Boil 2 cups of water and add a quarter of a cup of salt in a large bowl
Mix the salt so it dissolves
Add 2 TBSP of olive oil and 1 cup of clay
Mix all the ingredients well until they are combined
Apply the mask to your body
Wrap plastic wrap around the area tightly
Relax
After 30 minutes remove the wrap and wash off the clay with warm water
How to use clay in a bath
A clay bath is very relaxing and has been part of the culture of beauty for thousands of years. Some people claim it gives smooth, healthy skin all over your body.
But be warned, it can be a bit messy so be prepared to clean up afterward!
Ingredients required
Steps
Draw yourself a bath
Mix two cups of clay powder in hot water until completely dissolved
Soak in the bath for 20-30 minutes
Don't forget to pour yourself a nice glass of wine to help you unwind. 😉
Did you enjoy this article?
If you found this article useful please take a moment to tweet, like, or share this article by using the buttons at the bottom. I'd really appreciate it.
Also, if you are feeling extra generous please leave some encouraging feedback in the comments section at the bottom of the page. I love getting feedback from visitors. It will encourage me to write more natural treatments that are cheap and effective!
Thanks for taking the time to read my website and I hope to see you here again soon!
How useful was this post?
Click on a star to rate it!
Average rating / 5. Vote count: